About the Book - If I Wrap It Tight Enough
---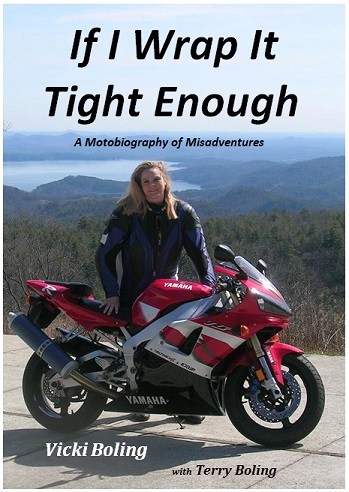 This is the amazing story of a woman's passion and obsession with the sport of motorcycling. Follow Vicki's motorcycling experiences from the beginning as a child helping her father rebuild a motorcycle and the first ride with him on the mountain roads in Western North Carolina, learning to ride her own bike, terrorizing some of the best motorcycling roads in the Southeast, and through the aftermath of a disabling accident resulting in paralysis of her left leg.

Learn of her struggles to heal both physically and mentally but never giving up on her desire to ride. Meeting a fellow motorcyclist and soon married, her husband helps Vicki ride again. Due to the extent of the injuries, her motorcycle had to be modified. The physical limitations from the accident forced her to change her riding style, but she was riding again.

Bad luck would strike a few short years later when involved in another accident. This time her right knee and left shoulder and arm were injured. Vowing to ride once again, this recovery would have new challenges. Healing and rehabilitation was longer than expected, and an unforeseen challenge was the development of spinal pain. This pain was unbearable and affected walking, standing, and sitting.

Vicki's story has humor, sadness, disappointment, and struggles but is full of motivation.


Would she ride again? Read her story and find out!



Back to the If I Wrap It Tight Enough Main Page.
Last Updated: October 17, 2018